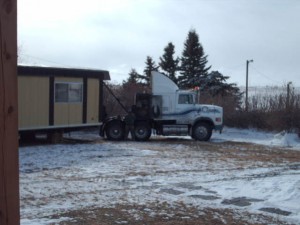 When you look for a house mover, you are most likely looking for someone to move the contents – boxes, bed, tables etc. – inside your current  home to another one.  There is another kind of house mover, one that moves the actual house.  Most of these companies specialize in mobile homes.  Mobile homes are designed to be moved after they are built and often come with wiring under the floor that includes brake lights.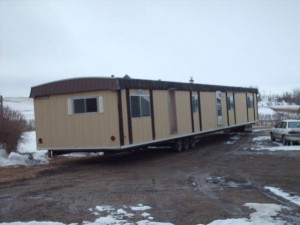 Now suppose you actually wanted to move a house.  Everything including the kitchen sink.  Yes, it can be done!  There are very few companies, and you would be lucky to find any in the yellow pages directory.  Calgary has one company, McCann Building Movers,  that is rather famous for it's ability to move very large structures.   Besides McCann there is Triple H around Edmonton.  I do know of two other companies and have worked with both of them briefly.  One goes under the auspicious name of Avin's Bobcat Services but is very experienced at moving buildings.
Besides building movers, people in Alberta can also recruit oil field hauling companies.  These companies have the equipment and horsepower to move buildings easily but they often lack the structural understanding of house construction.  Understanding a buildings structure is important to know where to brace,  where to place beams, and at the get-go, how much the building will weigh.
Most people over estimate how much a common house weighs.  For now I'm just going to post some of the pictures I took as our temporary home was dragged away from the homestead we live on.  I will be expanding on this topic in the next article on how I'm jacking and leveling the "Brown Cottage".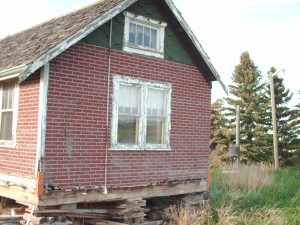 The Brown Cottage is the oldest building on the property and comes with history.  I didn't destroy it, but rather moved it to another location and am now jacking it to put a foundation under it.  After lifting a corner or two I can tell you how much it weights.
Don't Read Anything into This
Below is what I've been reading the past month.  Neither book returned cover images from Open Library catalog; maybe you could help them?  The first one is off my undiscovered book shelf, while the other is a public library discovery which I haven't got past the first few pages but am very interested in reading; I just don't have enough time.
Cover Image not available.
Low notes on a high level: a frolic.J. B. Priestley; W. Heinemann 1954WorldCat•LibraryThing•Google Books•BookFinder 
Animals make us human: creating the best life for animalsTemple Grandin; Houghton Mifflin Harcourt 2009WorldCat•Read Online•LibraryThing•Google Books•BookFinder