I'm quite a fan of having sharp tools. They get dull too quickly, which I tried to solve by not using them. This only made work go very slowly. The next thing I tried was developing a way to sharpen dull tools quickly, at the job-site. My favorite is the diamond plates from princessauto.com. They are cheap and they are fast, but recently I borrowed an idea I found in Shopnotes Magazine. I'll talk about that later. What I want to talk about is my Suehiro water stones.
In the workshop I can get seriously sharp edges on my tools with the help of Japan, or at least whoever makes these Japanese water stones. Suehiro water stones are imported by Woodcraft Industries International Inc. They are an excellent sharpening medium. I've been using this stone for a couple of months and can't remember life without it. At 1200 grit it gives an almost mirror-like finish on the steel. I've just bought another combination waterstone that has #1200 on one side and #6000 on the other. I'm looking forward to using it soon.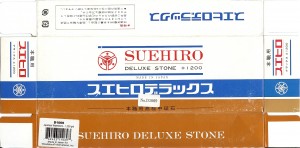 I think that the word "Deluxe" is used for Suehiro's extra wide stones. The #1200 is 2 7/8 inches wide, but my combination stone is only 2 1/8 inches wide
My diamond lapping plates from Princess Auto wore out recently. They were cheap and are still available at a very affordable price. However, I found another way to sharpen my tools at the jobsite that I am going to try. I found a supplier of Autobody peel-and-stick sanding pads that are #800 & #1200 grit. I also found a shop that makes granite counter tops. The off-cuts are ideal as a backer for the sanding pads. It's a disposable honing stone.  If you cannot find peel-and-stick sanding pads, I recommend using a spray adhesive from either 3M or Elmers.